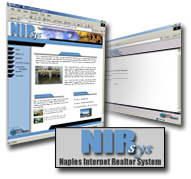 NIRsys® is a our corporate realtor database.
With a template site, the realtor can login into the database and update it daily with current information.
If a new client decides to sell their house today they can be up an viewed on the interenet within minutes.

Naples Internet Realtor System © 2005
All Rights Reserved

Naples WEBdesign® provides you the ability to update your automatically update your webpage's without any HTML or Coding knowledge. By using Active Server Pages (ASPs) your information can generate pages "on the fly." An ASP page is an HTML page that contains scripts and commands that are processed by the Internet server before being sent to your browser. Within minutes you can view your new pages using a web browser.

With a built in Login System, your company's users can access the database for easy changes, new pictures, or new information. Your company will be up to date as well as your viewers.

Active server pages are a great way to keep your company moving with fresh visual information that is seen by so many over the world wide web.